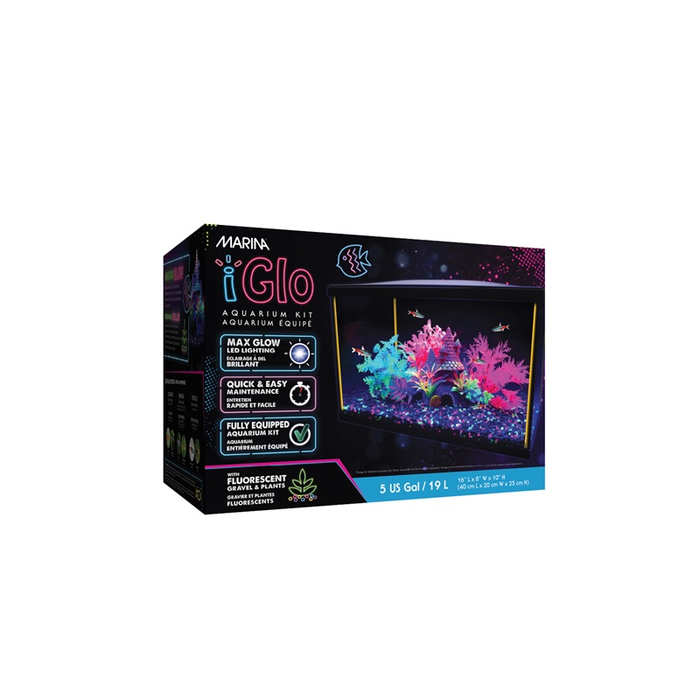 Marina iGlo 5G (19L) Aquarium Kit
by Marina
The Marina iGLO series accentuates fluorescent colors for a fun glowing effect. The fully equipped 5 US Gal (19 L) and 10 US Gal (38 L) Aquarium Kits include unique blue LEDs, bright silicone edging and iGLO décor for maximum fluorescence, with a Marina Slim series power filter and included media offers easy and effective cleaning to keep your aquarium healthy.
Includes:
-5 US Gal / 19L glass Aquarium Kit with yellow fluorescent edging (16" L x 8" W x 10" H / 40 L x 20 W x 25 H cm)
-Aquarium cover with feeding port
-Integrated blue and white LED lighting
-S10 Slim power filter offers ultra-quiet operation, instant start-up, and adjustable flow control
-Filter cartridges
-2 iGlo plants
-1kg Galaxy iGlo gravel
-Soft mesh net
-LCD thermometer
-Black aquarium background
-Aquarium care guide
This aquarium does come with decor. This aquarium is capable of using blue light for "fluorescent" lighting and white light for "natural lighting".
This kit does NOT come with a heater, which is necessary for keeping all tropical fish. This kit does NOT come with fish food. This kit does NOT come with a water conditioner or a bacteria supplement, both of which are necessary for starting a new tank/maintaining the tank.