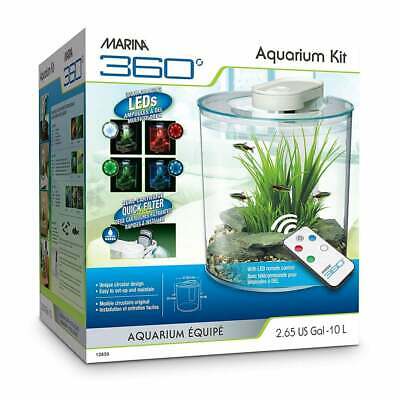 Marina 360 Aquarium Kit - 10 L (2.65 US gal)
by Marina
In terms of styling, Marina 360° is a uniquely crafted aquarium with a sleek housing unit placed discreetly at the back, allowing virtually unobstructed viewing from almost all angles. A perfect aquarium for betta fish!
The plastic aquarium's edges are lightly tinted in green to simulate real glass. The cover can be removed completely to provide unobstructed access inside the tank for maintenance.
Included:
-Unique cylindrical 2.65-gallon aquarium (Approx. 10" x 11")
-Powerful and efficient 8 LED lighting system designed to last a lifetime
-LED Remote Control with preset Red, Green, Blue and White color options
-Removable lid
-Easy to use integrated filtration system ensures clear water and a healthy environment
-2 filter cartridges


This kit does not include gravel or decor. This kit does not include any of the necessary chemicals (such as a water conditioner, or a bacterial supplement). This kit does not include fish food. This kit does not include a heater, which is necessary for keeping any tropical fish or inverts.