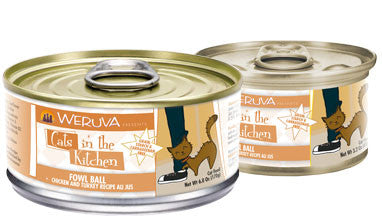 Weruva - Cats in the Kitchen Canned Cat Food (6oz)
by WERUVA
The kitchen is so often the heart of the home. It is where our family gathers for meals, where we have our game night, where family bonds grow.We eat there, we laugh there—we feed our pets there. The inspiration for these delectable selections come from feeding our precious Cats in the Kitchen. Bring your cats to the heart of your home and share with us these savory cuts of white breast meat chicken and duck breast . . . delicate gravies, some with pumpkin for healthy digestion . . . loins from tuna, salmon and mackerel . . . and lean cuts of beef —all fit for our kitchen carnivores. These recipes are among our most delicious offerings. We hope your kitties love Cats in the Kitchen as much as the WeRuVa cats do—Webster, Rudi & Vanessa approved!
My cats love it so much!
I always love shopping at petcuisine. The deal on getting a whole case of can is great!
Great for cats wit kidney disease
Certain flavours of weruva meet the standards for cats with kidney disease and I can say that my cats prefer this over the renal food!
The Double Dip for the win!
The Double Dip flavour is our cats' favourite. And the fact that the first 3 ingredients are: Chicken Broth, Chicken, Beef - is very reassuring.
5/5
Weruva Cats in the Kitchen - Cat Food
5/5
Weruva Cats in the Kitchen - Cat Food