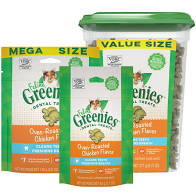 Feline Greenies - Oven-Roasted Chicken Cat Treats
by Greenies
Oral health issues are the most common health problems diagnosed in adult pets.*** FELINE GREENIES®Dental Treats offer complete nutrition and help your cat maintain good dental care. They have a unique shape and crunchy texture that's proven to reduce tartar. Plus, with an irresistible taste, they are sure to stir up purrs of joy. Cat dental care has never been easier — or more delicious.
Treat and bond with your cat while providing essential health benefits. FELINE GREENIES® SMARTBITES®Hairball Control Cat Treats are not indulgent, empty calories. This delicious, dual-textured treat contains natural ingredients and our FIBERBLEND™ Formula to help minimize hairball formation and promote healthy digestion.
mmmmmCatnip Flavoured
He loves it so much that he swallows it whole and requests it every evening!!!
Yummy Yummy Yummy (For Cats)
My cat loves Greenies (especially the Chicken flavour). We have designate treat times during the day and Greenies are her favourite. They always seem crunchy and she finds them delicious. I like to think they are good for cats as they are called 'Greenies'.
good treat for the teeth
My cat loves it. It does the job. No complaints.
Feline Greenies Salmon Flavored
This is my cat's favourite treat.
My cat goes crazy for these!