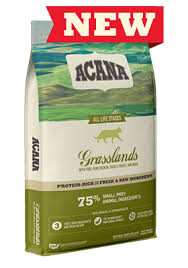 Acana Grasslands Dry Cat Food
by ACANA
Inspired by our grasslands and northern lakes, ACANA Grasslands is made with fresh lamb, free-run duck, whole nest-laid eggs, wild and whole northern pike, and free-run turkey from western Canada.

Brimming with fresh regional ingredients that are delivered FRESH or RAW daily in WholePrey™ ratios that mirror your cat's evolutionary diet, ACANA nourishes your cat naturally, without long lists of additives.
cats
acana great cat food. Dasha loves it.
my cat loves this food, rolls on the bag when i bring it home b 4 i open it he loves this brand! my cat stays full longer and doesnt eat his food as fast compared to when i used to buy Iams, or even Nutro
Disappears fast
Rumble approves of this product. He is always responsive, alert and happy.
Highly recommend
This food keeps my cat full and is really nutritious. I am happy with this brand and my cat really loves it.
It's like snack but food.
I have purchased different flavours of Acana and the kitties go nuts for it. I've tried other fish flavoured cat foods as well and tuna and sardines and my kittykats will have nothing to do with them. Acana Pacifica, I caught my little one (who doesn't eat much) pulling this out of thr cupboard, sometimes I'll pour a little out in between feedings and the think it's treats. Escellent quality and apparently flavour.