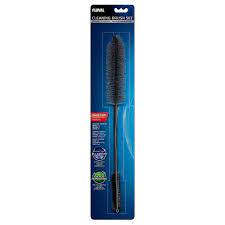 Fluval Aquarium Cleaning Brush Set (Value Pack)
by Fluval
The Cleaning Brush Set offers effective all-around cleaning to help maintain peak performance of your filter equipment.
Value pack includes Small (1/2″), Medium (1″) and Large (2″) brushes.
Small Brush is designed for cleaning standard 3/16" (4.8 mm) diameter airline tubing, impellers, impeller wells and covers, standard airline tubing and other hard-to-reach areas.
Medium Brush is ideal for cleaning filter intake stems, strainers, spray bars, AquaStop valves, output nozzles and decor such as driftwood, rocks and ornaments.
Large Brush is ideal for cleaning flexible, ribbed and/or smooth hosing up to 1″ (2.5 cm) diameter.