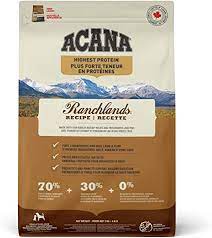 Acana 'Highest Protein' Ranchlands Recipe Dry Dog Food
by ACANA
Every ACANA
®
 recipe is thoughtfully crafted from start to finish with premium ingredients. With the highest protein offering in ACANA pet foods, our ACANA Highest Protein Ranchlands
®
 Recipe is rich with 70%
1
 quality animal ingredients like ranch-raised
4
 beef, pork, lamb, freshwater lake fish and bison, balanced with 30%
2
 fruits, vegetables, and botanicals, many delivered daily. Artificial colours, flavours or preservatives are never added in our kitchen.
Our premium ingredients come from a curated group of farmers, ranchers and fishers we've known and trusted for decades, and we approach every batch with an unsurpassed commitment to safety and quality. The result is a protein-rich, nutritious, and delicious dog food to help them live a healthy, happy life.
First THREE ingredients are fresh or raw beef, lamb, and pork, making this recipe nutrient-dense, with our highest protein offering.
Includes fresh or raw vegetables & fruit like collard greens, whole pumpkin, butternut squash, carrots, apples, and pears, all nutritious and high in fibre.
No added grain ingredients3, soy, corn, wheat or tapioca.
Coated with freeze-dried beef and liver for a delicious taste your dog will crave.
Crafted in the Canada with the world's finest ingredients.
good ingredients and my dog gobbles it all up very quickly
Keeping the little guy happy
The Acana senior dog food is great quality and the little guy loves it (he's a picky chihuahua). Only problem is the size of the kibble is a bit big for my tiny Chi, but he manages and still enjoys picking at his meal.
Acana - Light & Fit
Our dog loves this dry food. After 5 years, he is not sick of it!
It's dog food.
My dog likes it so I bought it. ¯\_(ツ)_/¯
Acana
I will be switching Murphy over to Acana in a couple of weeks.