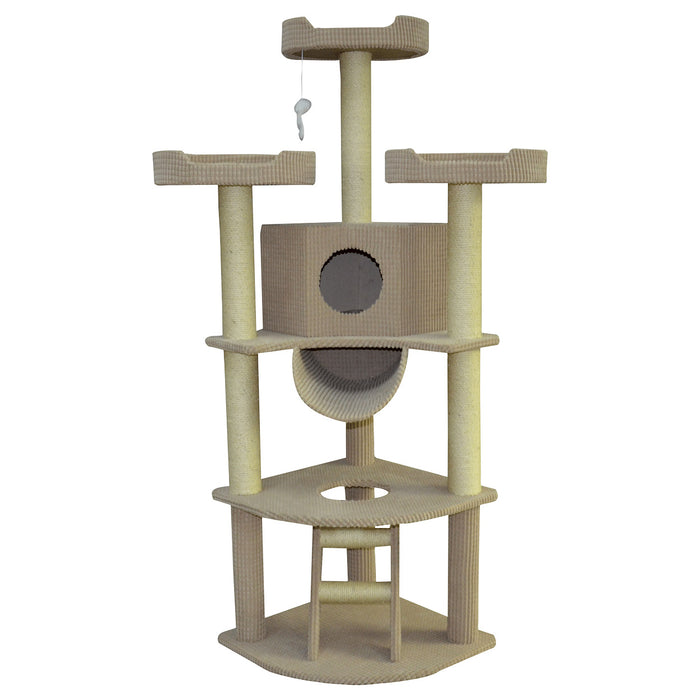 Animal Treasures Cat Tree Scratcher - New Yorker - 66"
by Animal Treasures
Cat Tree Scratcher - New Yorker - 66"
Every feline owner knows that cats love to climb and scratch their furniture. These actions are in their nature! Animal Treasures New Yorker Cat Tree Scratcher provides your feline with a designated space where climbing, scratching, playing and sleeping are appropriate. The New Yorker Cat Tree features three pillar scratch posts that run throughout the entire tree, where felines can mark their territory by scratching, trimming and cleaning their nails. Another scratch post that arises from the base helps to support the sleeping hideout on the third level. On the first level is a ladder leading to two of the upper most pillar scratchers where you will find resting platforms with hiding holes and scratching areas. Above the third level, three resting towers with raised edges are available, with a dangling toy hanging from the middle island. These platforms allow your felines to view their domain and observe the environment like they would normally do in the wild. The second and third levels contain darker hiding spots designed to satisfy cat's innate desire for hiding in crawlspaces.. This stylish New Yorker has warm and woven brown toned colors that will look great in any space. Bring the New Yorker Cat Tree home and give your felines a space of their own, where they can do what cats do best!