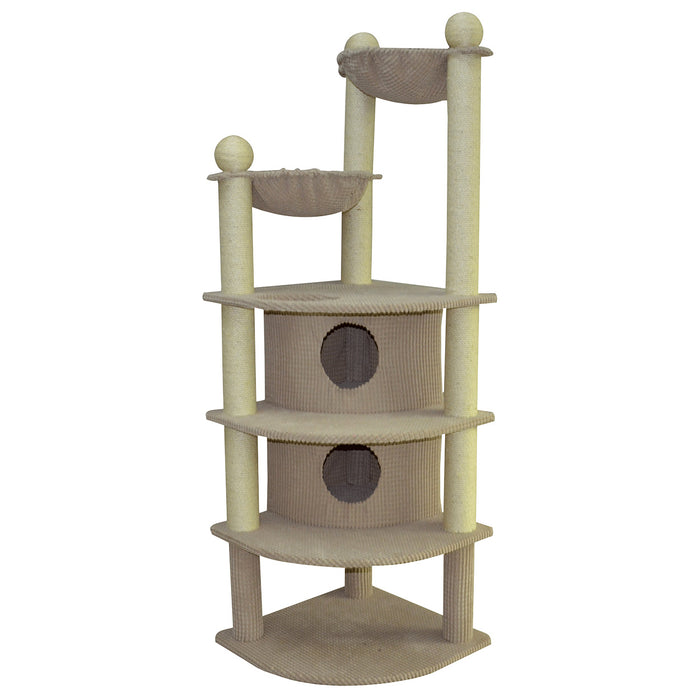 Animal Treasures Cat Tree Scratcher - Skyscraper - 66"
by Animal Treasures
Cat Tree Scratcher - Skyscraper - 66"
Every feline owner knows that cats love to climb and scratch their furniture. These actions are in their nature! Animal Treasures Skyscraper Cat Tree Scratcher provides your feline with a designated space where climbing, scratching, playing and sleeping are appropriate. The Skyscraper Cat Tree features three pillar scratch posts that run throughout the entire tree, where felines can mark their territory by scratching, trimming and cleaning their nails. The triangular shape of the three scratch posts helps to support the sleeping holes on the second and third levels. On the first level is a flat resting spot surrounded by comfortable fabric and scratching posts. Above the third level, two soft (but durable) cloth hammocks are available for cats to rest and nap in. These topmost areas allow your felines to view their domain and observe the environment like they would normally do in the wild. The second and third levels contain soft and dark hiding spots designed to satisfy cat's innate desire for hiding in crawlspaces. This stylish Skyscraper has warm and woven brown toned colors that will look great in any space. Bring the Skyscraper Cat Tree home and give your felines a space of their own, where they can do what cats do best!