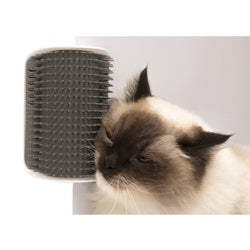 Catit Senses 2.0 - Self Groomer
by CATIT
The Catit Senses 2.0 Self Groomer provides your cat with a constant source of rubbing and grooming pleasure. Simply attach the brush to a surface at your cat's height and... you're done!
Attaches to corners and flat surfaces (screws not included). The Senses 2.0 Self Groomer includes a durable brush with catnip compartment, a holder, adhesive strips and Canadian catnip herb.
Each toy was designed to activate and stimulate your cat's unique senses.
Visit catit.com for more information.
Self Groomer
The Catit Senses 2.0 is like a brush on your wall. Cats are always rubbing against corners in your home and The Catit is a bonus for them. There's even a spot to add catnip! Perfect.
Our Second One because she loves it so much
Title says it all. Bought a second one for a high (cat) trafficked area of my house b/c she loves the first one so much. Just try it. Can't imagine it will fail. Note: the sticky tape is very effective, may need to repair your wall paint if you have to move the device from the wall to reposition it.