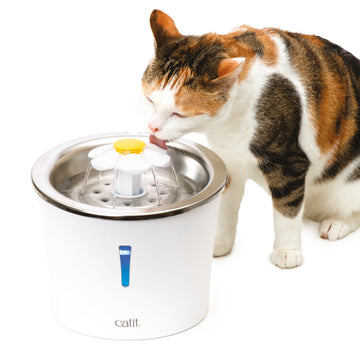 Catit 2.0 - Stainless Steel Top 3L Flower Fountian
by CATIT
The Catit Drinking Fountain with Stainless Steel Top is made of high-grade stainless steel which is hygienic, dishwasher safe and BPA-free (all components excluding adapter).
The fountain has a unique design that allows up to 3 different water flow settings to appeal to picky drinkers! Cat owners can switch between gently flowing water, faucet-like streams of water, or streams of water with a bubbling top.
The fountain provides clean, cool water at all times by pushing only filtered, running water to the surface. It is easy to disassemble and clean and has an ergonomic design which helps prevent whisker stress and feline acne. The fountain features an LED light, which makes the fountain light up at night, and a handy water level indicator so that your cat's water will never run low. It includes a triple action filter, which helps prevent urinary tract diseases.