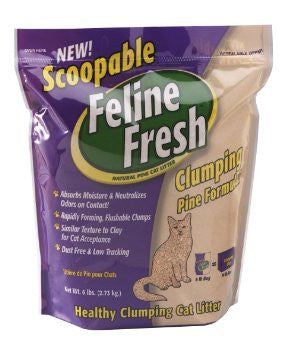 Feline Fresh - Clumping Pine Cat Litter
by Feline Fresh
Scoopable Feline Fresh® will absorb the moisture, neutralize the odor and form a firm clump that can easily be scooped out. The product is lightweight, has a higher yield than traditional clumping cat litter and the biodegradable clumps can be safely flushed down the toilet.
Like the original Feline Fresh® pine pellet cat litter, they both leave the litter box clean, with a fresh scent. Feline Fresh® is free of silica dust, non-toxic and completely safe for all pets and people, even if ingested.
Features:
 Instantly absorbs and neutralizes all litter box odors
 Rapidly forms flushable clumps
 Similar texture to clay for cat acceptance
 Dust and bentonite free!
 Safe, natural southern yellow pine
 Available in 6, 17 and 34 pound bags
Odour killer!
This is a great product - clumps well, natural product, kills odour and you can flush it - it ticks every box for me.
Clumping pine cat litter
I like it because it biodegradable, has natural smell, and is light.
5/5
I like this product because it's light and my back is grateful, it's biodegradable, it has a natural smell (nothing nastier than sweetly-scented poo) and my cats enjoy digging in it (very important to keep them amused). I think it's great to use a natural by-product and i don't feel bad about it in the land-fill..
Feline Fresh - Clumping Pine Cat Litter
This is the best product I have ever come across. Bio-degradable. NO MORE SMELL. No little pebbles on the ground to step on. I recommend this to any cat owner.