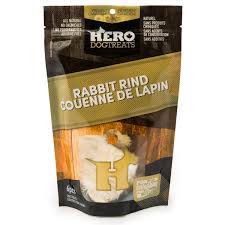 Hero - Rabbit Rind (6pcs) Dog Treats
by Hero
Ingredients: Rabbit Rind (6pcs)
A one
You people are great and I will continue to shop at your place forever
Doberman loves them
I originally picked up a bag of duck feed and a bag of rabbit feet. My 8-year old Doberman tried the duck feet first and loved them. Then he tried the rabbit feet. Loved them even more. Now the duck feet aren't good enough. Only rabbit feet are acceptable to him. They're a bit strange, since there fur and everything, but my dog devours them, and cleans up the crumbs.
Dog loves them
Great product, definitely recommend them
Love These!
Both of my dogs love the Rabbit Feet and Salmon Skins. They are all natural. So natural in fact I use a tissue to take them out of the bag (lol). Don't want to touch furry rabbit feet.