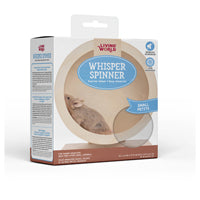 Living World Whisper Spinner - Small
by Living World
Living World Exercise Wheel is going to be your hamsters' favourite new boredom buster. The comfortable and solid surface will ensure that your small pet gets all the stimulating exercise he needs while preventing injuries from happening.
This wheel is crafted from 100% natural untreated wood, making it safe for your hamster to chew on. The heavy base prevents the wheel from being tipped over. The smooth surface prevents your pet's feet from being caught, and the build of the wheel ensures it is as silent as possible.
Suitable for mice and dwarf hamsters. 5.9 inch diameter.