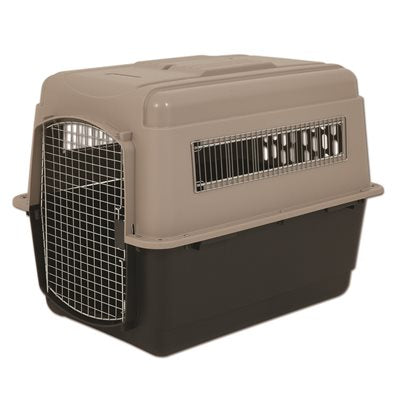 Petmate - Ultra Vari Kennel 36" 50-70 LB Tan / Brown
by Petmate
Product Information:
Perfect for housebreaking, the Petmate® Ultra Vari Kennel® 36" is ideal for training and traveling. Features include tough durable construction with easy-open squeeze latch, wire vents on side walls, an interior moat to keep pets dry and tie-down strap holes on the perimeter for zip-tie installation and extra security during airline travel. Provides 360-degree ventilation so your pet gets plenty of airflows. Heavy duty plastic shell provides durability and safety for your pet. The Petmate Ultra Vari Kennel is easy-to-assembly with no tools required. Meets most air travel requirements. Please contact your specific airline before traveling for verification of their requirements. Plastic made in the USA, other components imported. Handle not included.
Dimensions
36" L x 25" W x 27" H
Weight Range
50-70 lbs.
Product Weight
19 LB