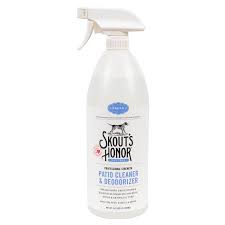 Skout's Honor - Patio Cleaner & Deodorizer 35oz
by Scout's Honor
Our all-natural, professional strength products offer 
Better, Faster, Stronger
 solutions to your pet stain and odour problems. Our Enzyme-free formulas are compatible with other cleaners, require no pretreatment or special storage and handling and never expire. Most importantly, they are super powerful and effective - they really work! Welcome to the next generation of green cleaning technology. 
Works great!
This stuff works great! The minute I brought it home, I sprayed it on everything that had been previously marked. I even sprayed it around the litter box area because there have been markings out of the boxes. And ever since that day, there hasn't been a single marking other than the litter boxes. I respray every few days and still nothing. It's amazing!!!! They used to mark all the time and now they've completely stopped! I'm so happy with this product!
Amazing product! Better than any product out there!!! Pet cuisuine rocks!
Works great so far but very strong smell
My dog has recently developed some bladder problems and is on a food that drastically increases uring production. Unfortunately, this has meant the odd accident for her. The product seems to work very well, definitepy eliminates the odor, but hard to tell if the urine is truly destroyed without a black light. It does leave a strange residue on my floors, even with thoroughly wiping the spray up. The only downside is that the scent seems very strong. It is almost unbearable when it is on a soft fabric. However, the smell does not really seem to linger more than 15 or 20 minutes, which is an improvement on other products that often leave a particular scent behind. All in all, I would recommend and would purchase again.