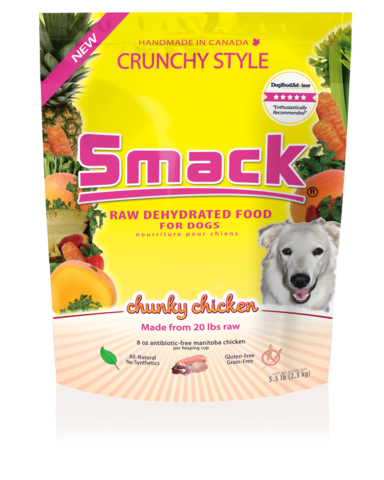 Smack - Raw Dehydrated Dog Food 2.5kg
by Smack Pet Food
A lip-smacking grain-free, gluten-free, raw food for dogs that can be fed like a kibble or with added water.
Contains high amounts of functional ingredients like organic strawberry, organic pineapple, organic mango, and millet seed, known to have the following benefits:
Fight Cancer 

Help Muscles Recover

Improve Protein Digestion

Blood Sugar Regulation

Reduce Inflammation

Improve Insulin Sensitivity

Raise Serotonin Levels - Improve Mood

Reduce Gastrointestinal Disorders

Improve Vitamin & Mineral Absorption
Never got this product
I ordered very berry and chunky chicken, didn't get the chunky chicken, but she loves the berry chicken.
Excellent results for years
Dog was getting ear infections from food allergies. Tried several other brands and found this. My 6 year old Morkie is well exercised and with this food looks great. His coat is amazing.
Good quality
This is the cheaper version of Ziwipeak. It's better than kibble, as my dog has more solid poop compared to when she's on kibbles.
One of the best dry dog foods out there!
Love this brand of dog food! I've tried many other brands and haven't stuck to any of them except this. Not only is this dehydrated raw instead of kibble, every single one of the ingredients are food items you would eat on its own. There are no added chemicals or fillers. Love love love it and my picky dog loves it too.
5/5
Smack - Raw Dehydrated Dog Food