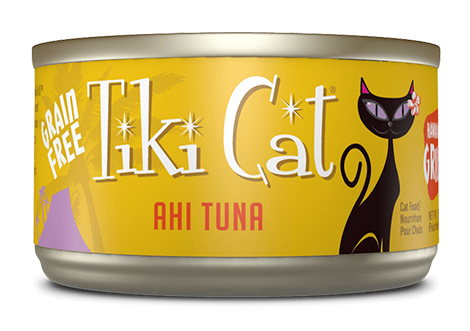 Tiki - Grill Canned Cat Food
by TIKI
It's the Real Deal
Seeing is believing. Simply open a can or pouch, and see for yourself – whole, identifiable ingredients that look like they belong in your bowl, not theirs.
MEAT FIRST
High-quality animal protein is essential for cats. Tiki Pets™ foods are packed with protein from high-quality animal sources, like nutrient-dense organ meat, lamb, whole prawns, flaked fish and shredded chicken, not plant protein.
CARB CONSCIOUS
Leave the carb counting to us. Since cats don't need carbohydrates, we can count to zero pretty quickly.
It's Nature's Copycat
Tiki Pets™ foods are designed to mimic cats and dogs' natural prey diets – meaning, high protein, low or no carbs with meat first. Plus, our wet foods are hand-packed with high moisture levels to give cats and dogs the benefits of supplemental water.
It's a Picky Eater's Paradise
It's not just good; it's bowl-licking, begging-for-more good. And, with so many options – flavours, textures and serving styles – your pet may never turn their nose up again.
FLAVORS & TEXTURES GALORE
Air-dried lamb morsels? Got it. Wild salmon and chicken in a delicate consommé? That too. Tiki Pets™ offers a variety of enticing textures – chunky wet food, smooth wet food, gravy toppers, dry meat toppers, crunchy kibble, you name it – available in more flavours than you can shake a stick at. 
MIX & MATCH
All Tiki Pets™ products can be served alone or combined with other products. Sprinkle some Dash smoked fish flakes onto your cat's wet food. Squeeze some savoury Bisque onto your dog's kibble. The more you mix it up, the more cred you'll get at mealtime.
A hit!
This wet food was a hit with my senior cat!
Great Food
I rotate foods, and the Tiki Cat chicken flavours are occasionally in my rotation. They are true shreds of chicken that look very much like they could be tossed on a salad for a human. They're super healthy, with high protein, moderate fat and almost no carbs, and pretty much free of questionable ingredients. I'd love to feed it more, but my cat is only so-so on the flavour. And it's too expensive to waste.
Tiki - Canned Cat Food
My 14 year old cat who is very picky about food likes this brand.
Good value and my kitten's new fave
I usually go with the variety packs, tried both queen and king so far, my kitten absolutely love them all! I bought weruva canned food as well yet price is also high and size can be too big for my boy. Tiki's small size works perfectly. Will buy again for sure.
One of the best foods on the market
TikiCat Luau is one of the ONLY commercial foods that don'tcontain any gums, carrageenan, agar-agar, or starch binders and fillers (these all irritate cat's digestive system, while carrageenan and agar-agar can cause cancer).
My senior cat, who has IBD, loves this food and it's one of the only ones she can eat without getting a tummy ache.
Highly recommended!